Build your work culture while working remotely
In today's world, work culture, flexibility and the way employees are treated in a firm play a bigger role in determining attrition rates. According to a
Glassdoor survey
, 56% of employees find a good workplace culture to be more important than salary.
The culture is at the heart of any organization. When we hear the word culture, our minds go to the perks of the organization like a game room, happy hours and the likes. But culture is way beyond that. It embodies the company's values, vision, goals, shared behaviours and assumptions. It is not built overnight and requires active participation from employees and leadership alike.
According to a
Gallup research
employees with a strong connection to the organization's culture are more engaged and it also attracts more qualified candidates.
While remote working has many advantages
, building a positive company culture with a remote workforce can be challenging. Whether your organization already includes remote workers or is making the transition, company culture is essential to your success.
Here are a few best practices for preserving your company culture while working remotely: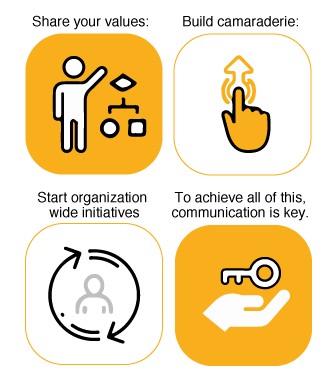 Share your values
The organization's values are core pillars on which work culture rests. Let these be at the forefront of your employees' minds. Values create a deep understanding of how your company operates and guide the desired behaviours.
How can you do this?
Incorporate values from day one - on the company website or all the material (internal messengers, newsletters, etc) that is regularly accessible to your employees. Ask value-based questions during the hiring process. This will ensure you build a company with people based on similar values.
Leaders could recognise and reward employees who display value-centric behaviours. This will send out a clear message about what are the desired behaviours that are appreciated and acknowledged in the organization.
Create a monthly event around values - It could be a morning meeting dedicated to it or a newsletter or even a weekly round up to talk about how values can be incorporated into everyday work.
Peer nominations - Let employees choose or nominate peers that they think are living and exuding the values. Use these examples as anchor points to reiterate the desired behaviours.
Build camaraderie
During this pandemic, if there is one thing we have all missed, it is being together in any space, and offices are no different. Your employees could be missing anything from in-person meetings to water cooler banter. Make an effort to avoid isolation and build camaraderie.
How can you do this?
Encourage more face-to-face meetings so you can emulate in person conversations as much as possible.
Make time for one-on-one meetings with your teams to engage with them every week to build trust, foster connections and to celebrate individual successes.
Create time for non-work related activities - this could include virtual catch ups to play games, share a coffee or discuss wellness over lunch breaks.
Start organization wide initiatives
Coordinate and organize company wide events or even department or function specific events, to help promote the organization's culture. This could be easily done before the pandemic to promote the spirit and values of the organization. With remote working, you can do the same virtually.
How can you do this?
Create and conduct all-hands meets - Use this event to update the company on the latest updates, important events and milestones. You could even use an online communication channel like Slack or Microsoft Teams to get everyone to participate and share their comments and opinions.
Hold virtual town halls - Employees want to hear from their leaders, especially in a time of crisis. Leaders can hold virtual town hall meetings to address the concerns of the employees and build trust and show them that they care.
To achieve all of this, communication is key.
People working remotely need to know how to connect and bond with each other, so they can break the silos and the perils of working remotely. Having different people working from different scenarios can sometimes make communication difficult and things can fall through the cracks.
All it takes is a bit of clarity and preparation. Defining the communication channels and practices can definitely ensure timely communication and build trust. You can achieve this in the following ways:
How can you do this?
As leaders or team managers, communicate to the point of erring on the side of over communication than under. Employees look to their leaders for clarity and hope. They have the power to influence business growth and foster relationships among the teams. This helps in assuring employees and keeping the organization working like a well oiled machine.
Establish and articulate the best practices for all communication channels. Include expected chat medium responses, expected response time and email etiquette so that everyone feels respected and trusted. Imagine an email or a chat message that is sent out and it doesn't receive a timely response. Then it is easy to jump to conclusions - 'My opinion is not valued' or 'They don't care about my effort' or 'Looks like I am the only one who cares about this issue.' By setting expectations and bringing everyone onto the same page, you can ensure that everyone feels valued, respected and trusted.
Leverage the right technology - Test and check what works best for the kind of work that your employees are engaged in. Equip the teams with the appropriate tools to manage and communicate effectively so that there are no communication barriers or breakdowns.
Developing and nurturing the culture of an organization is a continuous process. It helps build trust and camaraderie among employees which in turn increases the rate of engagement and ownership. Whether your organization has remote workers or is transitioning to a remote model, building a work culture intentionally can give direction and set the right expectations for the organization at large.
-----------------------
FlexiBees has provided companies, both startups and established players, with part-time talent for many projects and roles; across a variety of functions & skill-sets like Inside Sales, Business Development, Marketing, Digital Marketing, Public Relations, Investment Banking, Technology, Content Development, Writing, Graphic Design, etc. All these companies have benefited by being able to hire high quality talent at pricing optimised only for the hours of work they need. With the COVID-19 pandemic leading to businesses trying new approaches, strategies, MVPs, etc, part-time and project-based talent, that are high-quality and affordable, can help.

If you have a role requirement, take 2 minutes to fill our form and we will try our best to fulfil it for you, quickly and to your satisfaction.