Client Showcase - Avegen Health
Stay home, stay safe is the new normal. There was a time when you were sick, you felt safe enough to rush to the nearest hospital to seek medical help. You wouldn't be satisfied with a digital consultation or diagnosis. You wanted to meet a doctor in person. But post the pandemic, no one wants to venture out if they can avoid it - especially to a hospital! Today, digital healthcare is quickly being adapted by the medical fraternity as well as the patients. This is the need of the hour. And Avegen's Health Management platform, HealthMachine(™) is the right platform for it! They were ahead of this curve and have had experience in driving remote consultations and digital health care services long before the pandemic.
Avegen Health is a digital healthcare company empowering individuals to take control of their health while supporting healthcare professionals in delivering life-changing care. Their vision is to create a world where quality health care is available, accessible and affordable to everyone.
Their health management platform is being used by healthcare providers in U.K., India and Middle East (touching the lives of 150,000+ patients and 1200+ hospitals) to provide personalized medical care, knowledge and support to the patients, beyond the hospital or clinic. The platform enables better patient management leading to improved outcomes.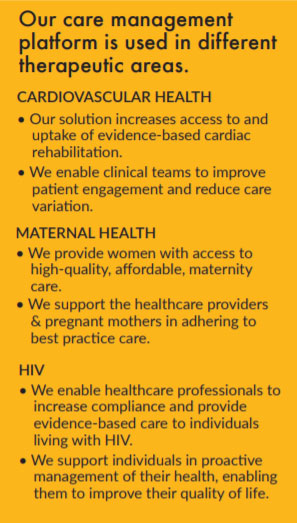 They are also one of our clients at FlexiBees, having hired many candidates for multiple roles in part-time and remote working models, ranging from a PR manager, a research consultant, a content lead to copywriters and graphic designers. We recently caught up with Dr. Nayan Kalnad, CEO, Dr. Sumiti Saharan, Director - Design & Research and Anne Reijns, Director - Commercial. What ensued was an interesting conversation about the growing need and popularity of digital healthcare and how it is empowering patients and the medical fraternity while paving a way for better outcomes.

Some excerpts from our conversation:
How did it all start?
Dr. Nayan shares, 'The idea of the app occurred to me during my practice as a doctor. Patients with chronic conditions need continuity in treatment even beyond the hospital or clinic. And this is a challenge every doctor faces. Patients are expected to actively take care of themselves and doctors cannot check in on every patient personally. This is the crucial gap in the healthcare system that prompted me to create Avegen Health.
Who is behind Avegen Health?
We have an array of people running the show behind the scenes.
Dr Nayan Kalnad, CEO is a clinician by training and has worked in digital health since 2008. Nayan has worked at Johnson & Johnson and Pfizer and has an MBA from London Business School.
Neeraj Apte, Chief Product Officer, is responsible for product strategy and development. After working in the US initially at Agile and then at eBay, he founded Vertis Microsystems in 2004. He successfully exited Vertis Microsystems in 2015 before joining Avegen.
Dr Lily Lee, Advisor, has close to 30 years of international experience in the pharmaceutical industry across the world. She is an active Board member of The ZigenFund, a US registered non-profit organization that was founded in 1988, and she was among the first few fully registered NGOs in China in 1995. Lily advises on numerous topics in public healthcare.
Pallav Patnakar, Director - Partnerships, has worked in the Public Health Space for the last eight years implementing HIV Intervention programs under the aegis of the National AIDS Control Program (NACP). He holds a B.Sc degree in Life Sciences & Biochemistry and an MSc degree in Biotechnology & MBA in Intl. Business from S.P.Jain Institute of Management & Research, Mumbai.
Anne Reijns, Director - Commercial, is responsible for the implementation and management of clients, as well as the sales strategy of the organization. She has 7+ background in eCommerce and Digital Healthcare, building teams and companies in the United States, India and Europe. She holds a master's degree in marketing management and Entrepreneurship from the Erasmus University in Rotterdam.
And me, Dr Sumiti Saharan, Director - Design & Research, I am a Neuroscientist with nearly fifteen years of experience in scientific thinking and research & design. I hold a doctorate at Queensland Brain Institute, University in Queensland, Australia.
Can you take us through the journey of a patient who uses your system?
Sure, let us look at the example for maternal care. Firstly, a pregnant mother might not have all the information she needs in terms of nutrition, exercise and taking care of herself during each phase of the pregnancy. Secondly, she might be receiving a lot of information from her family and relatives - which is probably contradictory in nature and she might now know what to choose to follow. There is a huge percentage of Indian women who are anemic during their pregnancy. Not treating this can have dire effects on the mother and the baby.
So, when the mother visits the doctor, she inputs the information into our system and the mother has access to our app where she can also input information - like symptoms she might be experiencing or what she has eaten over a week, etc. This will prompt the appropriate videos and knowledge share. She might be advised to eat certain foods and avoid others and engage in certain behaviours that can improve her health. Usually, these videos are recorded by the doctors and other healthcare professionals to further establish authenticity and trust. Over a period of time, the mother gets personalised information on what to eat, how to care for herself and her baby based on which month of pregnancy she is in.
In the case of HIV care, we provide a lot of emotional support so that the patients can stay positive and send out reminders for taking their medication as skipping it is not an option for them.
Digital healthcare is relatively new in India and many might be skeptical about it. Was it a challenge to onboard patients onto your platform? Did you need to educate or convince them?
We did see easier adoption in countries like the UK. In India, we have had a few challenges. Firstly, though almost everyone has a smartphone, they don't necessarily have access to the kind of knowledge and know-how of simple functions and usage of the technology - for example, they may know how to use certain apps but do not know how to save a number or download something.
Secondly, they don't trust a digital platform to provide the information and medical care that they need. They would prefer meeting the doctors and talking to them in person.
To combat both these obstacles, we have collaborated with the medical health care professionals to suggest it to their patients so that there is a trust transfer. The hospitals or clinics help us onboard patients so that it is seamless and hassle-free.
What was the turning point for Avegen Health?
Dr Sumiti shares, 'Avegen Health started about 5 years ago in a very different avatar. It had two components - an appointment booking platform and a review platform. They were independent of each other and worked as separate platforms. Over the years, it has gone through many different changes, pivoted and metamorphosed into the platform and service you see today. In the initial days, we even saw the difference in the teams and how they all worked for separate functions but today, we all work for Avegen health - whether it is HIV patient care, Maternal Health or Cardiovascular Health.
Only in the last year or so, Anne and myself took about two months to take a step back and relook at everything. The 'aha moment' was when we saw that these two systems needed to talk to each other and needed to be integrated as one whole system. That is the platform as you see it today. We have seen great success with HIV patients and knew it could work for other kinds of care.'
How has Covid-19 affected Avegen Health?
Anne shares, 'Thanks to the pandemic we see that people are more open to the idea of digital healthcare - both on the patients front as well as the doctors'. Earlier, the doctors used to feel that they would earn only if they met patients physically in their clinics or hospitals. Today, that perception is changing. The adoption and acceptance of digital healthcare has increased.
But in many NGOs, funds and money has been diverted to Covid patients. Though this is the need of the hour as we don't want to lose more lives to this pandemic, there are other downsides to it. For example, HIV patients are not a top priority any more. And they are stuck during the lockdowns not knowing where to go to get their medication and help. This has led to innovation at our end as well. We have partnered with the Mumbai District AIDS Society and used our app to provide this information and support.
It is also estimated that a huge number of new mothers and infants are not going to survive as an after effect of the pandemic, not because they contracted it but because they are not able to get the maternal and neonatal care they need. We really have to see what long lasting effects this pandemic can have on healthcare.'
What were some of your notable achievements?
Last year, we won the Bombay Stock Exchange Social Impact Award, naming us as one of the top 10 social innovations in India that drive change. We also were selected by Vodafone's F-Lane program, an accelerator for impactful organizations that focus on empowerment of women. They select 5 organizations world-wide per year and we were the only Asian start-up selected in last year's cohort. Lastly, in the UK we are part of the London Mayor Business Program, an accelerator program that supports promising start-ups to grow within the London ecosystem.
These are all nice achievements and important acknowledgements that give motivation to stay on this track. However, I think our biggest achievement has been the impact that our platform has on patient-lives and healthcare providers. Over the last two years we did numerous studies, and found that our platform improves quality of care at hospitals, reduces remission rates of patients, cost of care and improves health behaviours of patients. This is in the end what we really do it for!
What made you opt for remote talent and FlexiBees and how has been your experience?
Over time, we have had many different candidates from FlexiBees fulfilling different roles in a flexible, remote working model. We have always been very happy with the quality of candidates that were provided to us. We kept coming back as we always knew that the candidates were vetted and we would surely find the right candidate we were looking for.
We also feel strongly about giving women a fair chance to seek work. In India, it is really hard to be a working mother. We share the vision of FlexiBees in providing mothers the flexible option to work from home and reclaiming their own lives.
We have thoroughly enjoyed our experience with them and would highly recommend it to anyone looking for high quality, flexible talent.
---------------
FlexiBees has provided companies, both startups and established players, with part-time talent for many projects and roles; across a variety of functions & skill-sets like Inside Sales, Business Development, Marketing, Digital Marketing, Public Relations, Investment Banking, Technology, Content Development, Writing, Graphic Design, etc. All these companies have benefited by being able to hire high quality talent at pricing optimised only for the hours of work they need. With the COVID-19 pandemic leading to businesses trying new approaches, strategies, MVPs, etc, part-time and project-based talent, that are high-quality and affordable, can help.

If you have a role requirement, take 2 minutes to fill our form and we will try our best to fulfil it for you, quickly and to your satisfaction.