How FlexiBees fared this year: Looking back
As the year draws to a close, one tends to reflect back on the various things it brought our way - moments of success, moments that taught us something, and those that left us spell-bound. Businesses do it too. Just a little differently, with many more charts, graphs, percentages and presentations.
And we at FlexiBees, have a surfeit of those these days. This was the year of data for us, delicious data, that changed us in some ways, fortified us in others, and became the foundation for a stronger, better company. At some point in the year, I had the chance to listen to Vipul Parekh from Big Basket speak about some of the things that make them tick, and creating a data-culture was top of the charts for him. It's a beautiful piece of gyaan to have early on as a startup, because it says many things at once, not least among them that it takes work to make it happen.
But at the end of the day, every piece of data tells a story, and it is these stories that power us.
The Story behind our Data
Now it is easy for us to measure success simply by tracking the launches we did this year vs the previous one. For the uninitiated, a launch for us is when we fulfil a talent requirement and the consultant starts working with the client. But wait, this is flexible working we are talking about, where many of our clients have never worked with someone either part-time or remote, and most have not worked with people both part-time and (largely) remote. It takes some getting used to. So success for us has to be the success of the engagement, it has to be a measure of whether the client got what they needed out of the candidate. Whether they would come to us again for another flexible role, and whether we won at shifting the mindset, even by the tiniest bit, to the understanding that any role can be done in a flexible manner, and can indeed, be done better because of the flexibility. There are many metrics here but the one that is a resounding measure for us is that 66% of our business comes from repeat clients. We will continue to strive to make it even better, along its various cuts, with our focus on requirement gathering, best-fit candidate matches, and post-placement support.
A second factor of success for us, is the type of engagements. The type is simply put the difference between a gig and a role. Now, much has been spoken about the gig economy, but a lot of people think only of short-duration projects when they think of it. However, that's one part of it. Today, as people increasingly want to work flexibly, as businesses battle multiple pressures with regards to competition and bottomline, even core roles are being structured as flexi-working engagements with functions like marketing, sales, investment banking, content strategy & management, etc, being hired for from a pool of expert and on-demand talent. 75% of the engagements we have launched so far have been roles, and it really gladdens our hearts to see this, because it directly feeds into our vision.
And finally, coming to the quality of engagements, it is a measure that's important because it tells us whether we have been successful in creating career meaningful work opportunities for our qualified and experienced women pool. Happy to report that we have seen a 30% improvement in the monthly value per engagement in this year over the previous one, and while there is a long way to go towards creating an equitable flexible universe of opportunities, we are excited about being on the right path.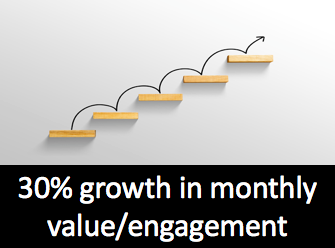 The Ones who Power these Stories
As we move steadily towards our vision, we have one group of people to credit more than anyone else: our wonderful pool of women. Everytime I speak to one of our potential candidates, I am struck by how talented they are.
Again, for the uninitiated, our pool is 13K+ strong and growing, pan-India, and comprising mostly post-graduates with ~7 years of experience on average in prestigious organisations and from across sectors and domains.
This year, we have succeeded in placing women from backgrounds as diverse as SMEs in the field of Aviation, Mechanical Engineering & Corporate Governance, to as mainstream as Sales, Technology, Human Resources, Digital Marketing, Branding, Content Development, etc. The job descriptions we have fulfilled have ranged from specific ones like to create a database of investors for a startup, to wider mandates like an India market-entry strategy for a globally renowned fmcg player. The clients have ranged from high-energy startups - our bread and butter, to enterprises that are slowly but surely warming up to the many benefits of flexible talent.
It has all been exhilarating, but nothing more so than the stories these statistics reveal. Hardened professionals like us, who have done everything from selling hair conditioner to villagers to doing back-breaking financial analyses to extracting the last digital media dollar from miserly brand teams, are stunned when we come across some of these. There is the one of an experienced PR and Corp Comm professional, let's call her P, who started taking up freelance opportunities two months before her maternity leave ended, in order to better transition back to her full-time job, and who at the time of speaking had left the full-time workforce to take care of her ailing mother-in-law; there is the one of a senior Training and Development professional in the Aviation industry, let's call her N, who discovered delightful hobbies after 18 strong years of working without a break and wanted to work flexibly to balance both these aspects; there is the one of a brilliant coder, let's call her A, who after a break of 3 years, wanted to start learning new technologies to not only get back to work but to erase the impact of the break on her mid to long-term career.
P, N and A, have varied backgrounds and are in different life-stages, but two things are in common - they are super skilled and extremely driven. They want to be role models for their kids, and more importantly, they want to be in-charge of their own trajectories.
As we go into 2020, we have our work cut-out for us. Although growing, flexible working is still new, and we want to take it to the world. In an age where we talk of the war for good talent, we cannot let a brilliant and driven pool of talent go unutilised just because they didn't fit in with our 100-year old industrial-age work structures. The future is flexible, and we want to help create it.
**
We at FlexiBees are happy to have helped our clients, both startups and established players, meet and exceed their business goals through providing them flexible talent across a variety of functions & skill-sets like Sales, Business Development, Finance, Marketing, Digital Marketing, Public Relations, Investment Banking, Technology, Content Writing, Graphic Design, etc. All these companies have benefited by being able to hire high quality talent at pricing optimised only for the hours of work they need. So if you have a job requirement, take 2 minutes to fill our form and we will get back pronto.