How Flexible Talent from FlexiBees can help you during Corona
The COVID crisis came out of the blue and has already made us change many things about how we lead our lives. Many of us, coming from backgrounds of some privilege, are learning to work with our hands for the first time, from the bountiful era of plenty where pretty much everything was available at a click, some of us are learning to ration for the first time. And of course our work, learning and consumption patterns are changing, transitioning from offline to online.
Businesses, startups, are expectedly going through a tough time. With demand reducing or drying up, payment cycles becoming longer, reaching people in the traditional ways getting tougher, the Corona virus is a full-on bump in the road. But entrepreneurs are a rare breed, problems fire us up. In fact, our journeys begin with problem statements, as do our pitch decks. So as we look around, we see the hustle, with dauntless founders and teams trying to figure out new ways, models, approaches, to make the best of this situation. We see MVPs and pivots playing out, we see digitisation, we even see new product offerings; and it makes us feel pride.
It also makes us want to help. And we are well placed to do just that, with our talent and models that can make these pivots and experiments a lot easier, quicker, and affordable. Look below to know how, and if you want to know more, drop us a line
here
. If you do have a requirement, we will pull out all stops to fulfil it immediately and to the best of your satisfaction and budgets.
All the best, may we all come out stronger!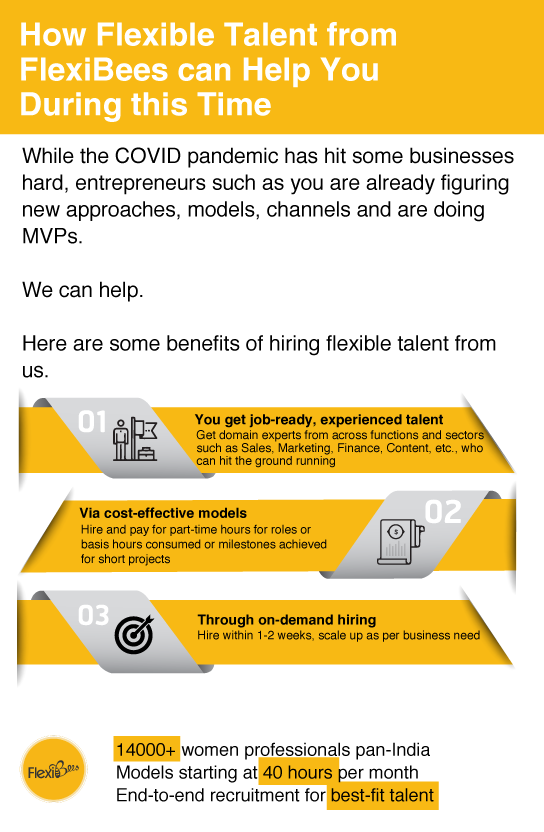 FlexiBees has provided companies, both startups and established players, with part-time talent for many projects and roles; across a variety of functions & skill-sets like Inside Sales, Business Development, Marketing, Digital Marketing, Public Relations, Investment Banking, Technology, Content Development, Writing, Graphic Design, etc. All these companies have benefited by being able to hire high quality talent at pricing optimised only for the hours of work they need. With the COVID-19 pandemic leading to businesses trying new approaches, strategies, MVPs, etc, part-time and project-based talent, that are high-quality and affordable, can help.
If you have a role requirement, take 2 minutes to fill our form and we will try our best to fulfil it for you, quickly and to your satisfaction.