How I learned to be a part of a Remote Marketing Team
Managing an exceptionally cohesive team that works like a well-oiled machine is a major challenge for most organizations. With remote working and geographically distributed teams, this challenge takes on a new color. But with the change in the work environment post the pandemic, this model is quickly becoming the future of work.
But how can you manage a marketing team, where everyone is used to the hustle of a traditional mortar and brick office, remotely?
Marketing typically involves a lot of discussions and on-going consultations and collaboration within teams; and more often than not, it usually comes down to the wire!
Today, we share our personal experiences of successfully managing a remote marketing team, at FlexiBees.
Before I joined FlexiBees, even I couldn't imagine how three women (all with children under the age of 10!) sitting in three different cities, doing three different roles (a graphic designer, a content manager, and a digital marketing manager) could possibly churn out high-quality outputs week after week. There are a lot of Google sheets shared, instant messenger pings that go back and forth but we get it done!
Here are a few tried and tested pointers that worked for us, that you might want to try out: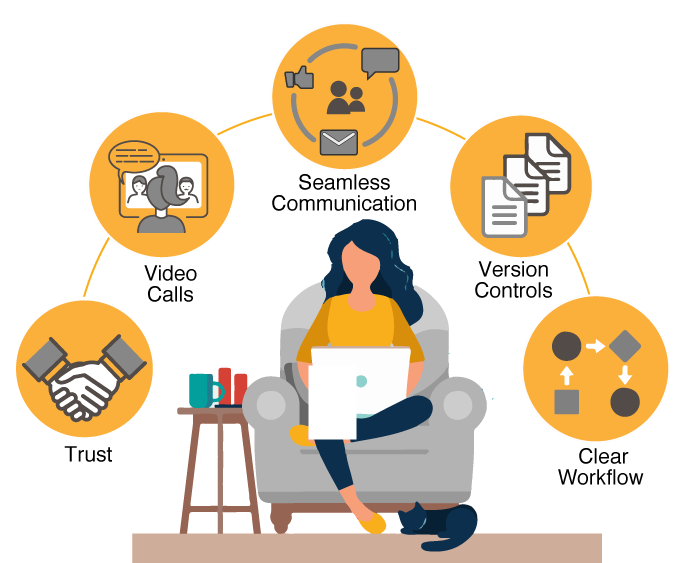 1# Trust is the all-encompassing umbrella under which we work. We all have our roles and responsibilities clearly demarcated between us and own up to each of those. It is sort of like a relay race and we all trust that our teammate will pick it up where we leave it and keep going till we make it to the finish line.
One of the ways we build trust is to adopt the policy of total transparency. This is important in any work environment, but more so in a remote working model. With everyone working from geographically different locations, a lot of information can slip through the cracks. Sometimes, one of us would feel like we didn't have enough context to understand what was going on. We choose to go out of our way to provide relevant information and provide enough context so that there are no surprises. If you want to build trust, there can be no room for surprises.
Another thing we do to keep to the policy of total transparency is to adopt channels of communication that enable conversations across all teammates, so no one misses out on any important information.
2# We have defined a clear flow of work - not just the chronology of activities but the logistics of how everything happens.
To enable a smoother flow of work, we work in tandem with our teammates and their preferred timings. We create schedules and work around them. To meet deadlines, we coordinate with each other and conduct regular meetings.
For example, while planning for a virtual webinar, we would first chalk out the timelines and tasks that need to be done. Then we would all take ownership of our piece of the puzzle. As a content manager, I would write all the copies required - for the social media blurbs, ads, emailers that will go out, reminders, and everything in between. Our graphic designer would then put all of that together to tie it visually while the digital marketing manager would oversee the promotion plan, media planning, and the timelines and make sure everything is posted and sent out on time.
Some of the things we have clarity on include:
Agreed goals for a specified period of time
Aligned and agreed timelines for all deliverables
Identifying and working with external stakeholders (clients and our talent pool), when necessary
Clearly defined expectations from each activity
3# For seamless communication, we have ditched elaborate emails and have adopted instant messaging to keep it quick and clutter-free.
4# To manage version control and ongoing edits, we use Google documents, slides, and spreadsheets to share ideas and information.
5# We regularly catch up over a video call to see how each piece we have put out has performed. These meetings include looking into data points and analyzing them to create insights that can be useful for future planning of our content strategy. We also take time to openly examine risks and look at what didn't work as expected.
I think it also works well for us as we are a small, diverse and tightly knit team. If you are a larger team, you could break up the team into smaller groups, based on their tasks - to gain similar advantages. Working in a small team helps us in many ways, including,
Makes communication easier and faster
Fosters closer bonds between teammates
Reduces roadblocks
Makes room for innovation and ideation
Above and beyond this, the FlexiBees leadership team empowers us and gives us space to work, grow, and truly shine.
If you're transitioning to virtual teams for different functions, make sure you've got all the elements right—trust, process, and clear goals.
Are you currently running a virtual team? What steps have you taken to ensure its success?
-------------------------------
FlexiBees has provided companies, both startups and established players, with part-time talent for many projects and roles; across a variety of functions & skill-sets like Inside Sales, Business Development, Marketing, Digital Marketing, Public Relations, Investment Banking, Technology, Content Development, Writing, Graphic Design, etc. All these companies have benefited by being able to hire high quality talent at pricing optimised only for the hours of work they need. With the COVID-19 pandemic leading to businesses trying new approaches, strategies, MVPs, etc, part-time and project-based talent, that are high-quality and affordable, can help.

If you have a role requirement, take 2 minutes to fill our form and we will try our best to fulfil it for you, quickly and to your satisfaction.