Let's Help Each Other : FlexiBees features DealShare
Next in our "Let us Help Each Other" series, FlexiBees features DealShare, a B2C and a B2B hyperlocal e-retail business, currently operational in cities like Jaipur, Mumbai, Kota, Ajmer, Sikar, Ahmedabad, Surat, Vadodara. With COVID-19 a lot of businesses are trying to remain operational and sail through these tough times. Through this feature, FlexiBees aims to amplify the initiatives start-ups are taking to thrive in times of COVID-19.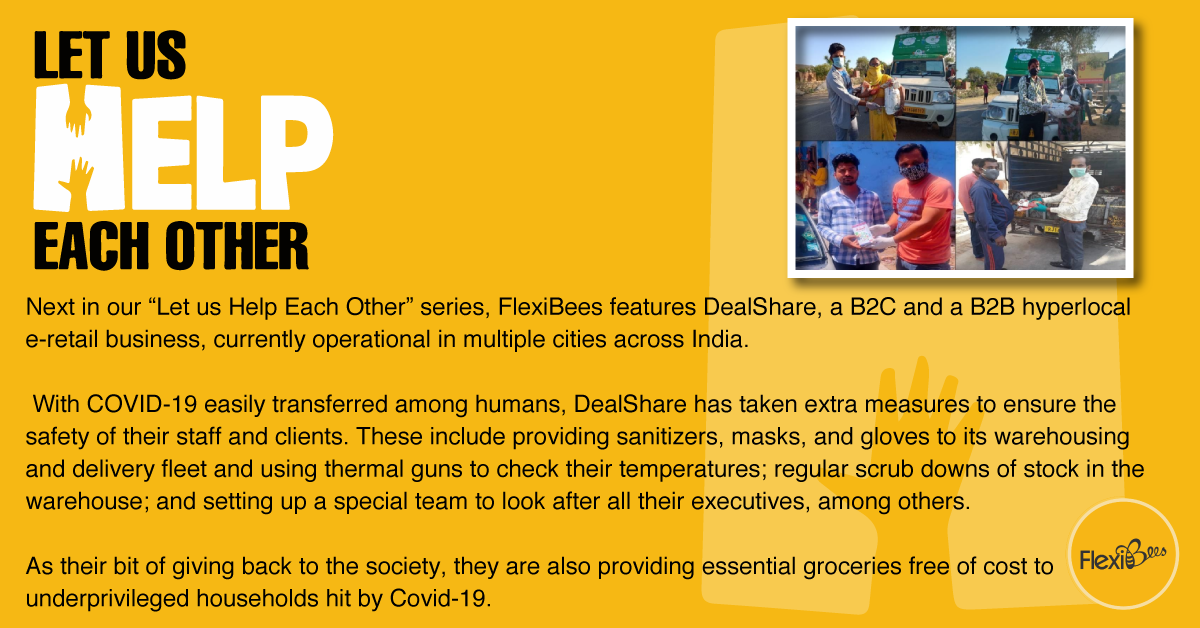 DealShare (
dealshare.in
) is an incredibly disruptive social e-commerce model that aims to re-invent e-retail. Headquartered in Bangalore, DealShare is a B2C and a B2B hyperlocal e-retail business. Established on September, 5, 2018, it is currently operational in a number of cities such as Jaipur, Mumbai, Kota, Ajmer, Sikar, Ahmedabad, Surat, Vadodara to name a few.
The brainchild of Vineet Rao, Sourjyendu Medda, Sankar Bora and Rajat Shikhar, who carry amongst them exceptional corporate experience as well as of leading successful ventures such as Myntra.
With COVID-19 easily transferred among humans, most e-retail companies have taken extra measures to ensure the safety of their staff and clients.
At DealShare the team has taken a number of initiatives to take care of the health of its employees, partners, and customers. Special steps are being taken to ensure the wellbeing of their frontline staff, especially, the warehousing and the delivery fleet who have been provided with necessary precautionary measures like sanitizers, masks, and gloves.
Along with that thermal guns are being used to check the temperatures of all the delivery executives regularly. Routine check-ups are being done for the logistics as well as warehousing staff at regular intervals. A complete, thorough, scrub down of all the things in the warehouse is being done consistently, thus, ensuring the cleanliness of any possible touch points. They have even set up a special team to take care of the safety and security of all the executives who deliver and work in the warehouses.
And, as their bit of giving back to the society they are providing essential groceries free of cost to underprivileged households hit by Covid-19.
*******************

FlexiBees has provided companies, both startups and established players, with part-time talent for many projects and roles; across a variety of functions & skill-sets like Inside Sales, Business Development, Marketing, Digital Marketing, Public Relations, Investment Banking, Technology, Content Development, Writing, Graphic Design, etc. All these companies have benefited by being able to hire high quality talent at pricing optimised only for the hours of work they need. With the COVID-19 pandemic leading to businesses trying new approaches, strategies, MVPs, etc, part-time and project-based talent, that are high-quality and affordable, can help.

If you have a role requirement, take 2 minutes to fill our form and we will try our best to fulfil it for you, quickly and to your satisfaction.