Let's Help Each Other : FlexiBees features MyTree
Covid-19 has pushed everyone to try their hand at cooking. Whether you are a seasoned cook, who can artfully repurpose what's in your pantry or a new cook who is still learning the ropes, everyone can be found spending more and more time in their kitchens. The numerous images and recipes shared on social media are a testament to that.
But what if you're bored of your own cooking? Or if Work From Home s blurred the lines between work and home so much that you have no time left to cook? And you might be wondering how safe it is to order in food?
Today, FlexiBees is presenting, MyTree by Craft Box India, who has a unique solution!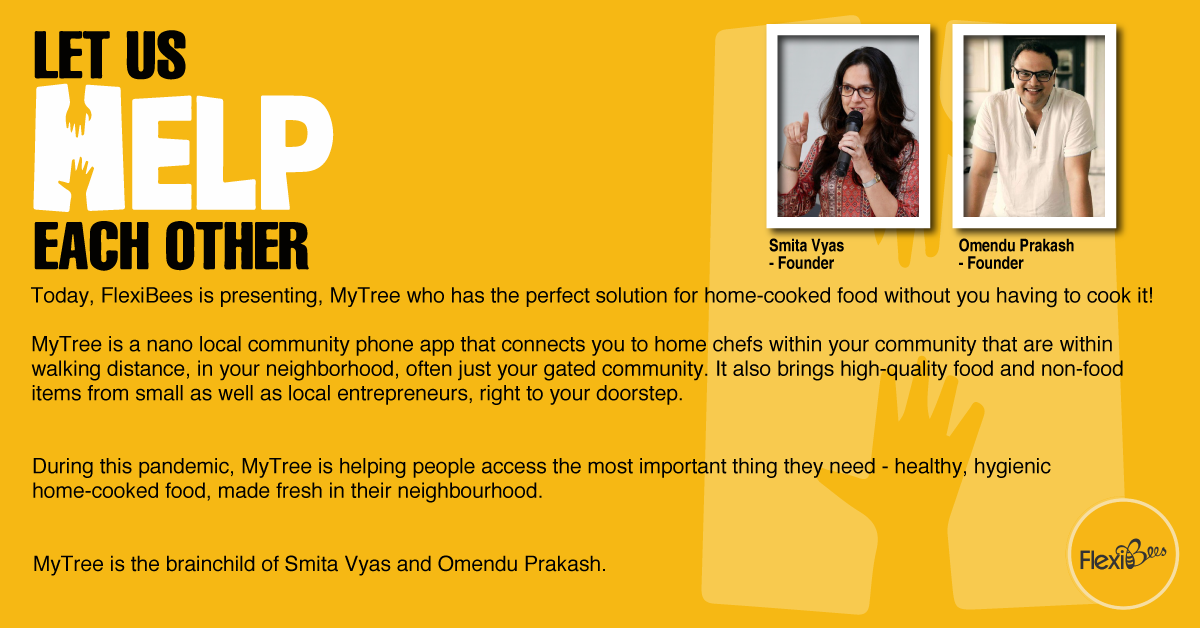 MyTree is a nano local community phone app that connects you to home chefs within your community that are within walking distance, in your neighborhood, often just your gated community. It enables connecting people and sharing food within a close neighbourhood. It also brings high-quality food and non-food items from small as well as local entrepreneurs, right to your doorstep.
In the midst of this pandemic, MyTree is helping people access the most important thing they need - healthy, hygienic home-cooked food, made fresh in your neighbourhood. People who have large families or both spouses working from home have reaped the benefits by ordering anything from a full meal to simple rotis.
As a consumer, the app offers a daily buffet with a plethora of options for scrumptious and wholesome food that is home-cooked! Online payments make transactions quick and easy. As a home chef, you will be provided with your own screen to keep track of your orders and deliveries. They have provided home chefs with an opportunity to become micropreneurs.
MyTree is the brainchild of Smita Vyas and Omendu Prakash. Smita is an entrepreneur who ran a crafts business for a decade and is a writer. She is an alumnus of IIMB. Omendu is the founder of SEED Design & Consultancy. He is a Fashion Design Graduate from NIFT Bangalore. They also have Damodar Mall, CEO Reliance Retail and Anuj Kumar, Sr. Exec VP, Kotak Mahindra Bank as advisors.
________________________
FlexiBees has provided companies, both startups and established players, with part-time talent for many projects and roles; across a variety of functions & skill-sets like Inside Sales, Business Development, Marketing, Digital Marketing, Public Relations, Investment Banking, Technology, Content Development, Writing, Graphic Design, etc. All these companies have benefited by being able to hire high quality talent at pricing optimised only for the hours of work they need. With the COVID-19 pandemic leading to businesses trying new approaches, strategies, MVPs, etc, part-time and project-based talent, that are high-quality and affordable, can help.

If you have a role requirement, take 2 minutes to fill our form and we will try our best to fulfil it for you, quickly and to your satisfaction.