Let's Help Each Other : FlexiBees features Saloni Mehta Company
Looking for ways to build your network and gain traction in these difficult times especially on platforms like LinkedIn, then you need to read on!
Today, in our "Let Us Help Each Other" series FlexiBees features Saloni Mehta Company (ww.salonimehtaco.com) or SMC, which specializes in helping you effectively use LinkedIn to get leads, get hired and build your personal brand. Through this series FlexiBees aims to amplify the initiatives start-ups are taking to thrive in times of COVID-19.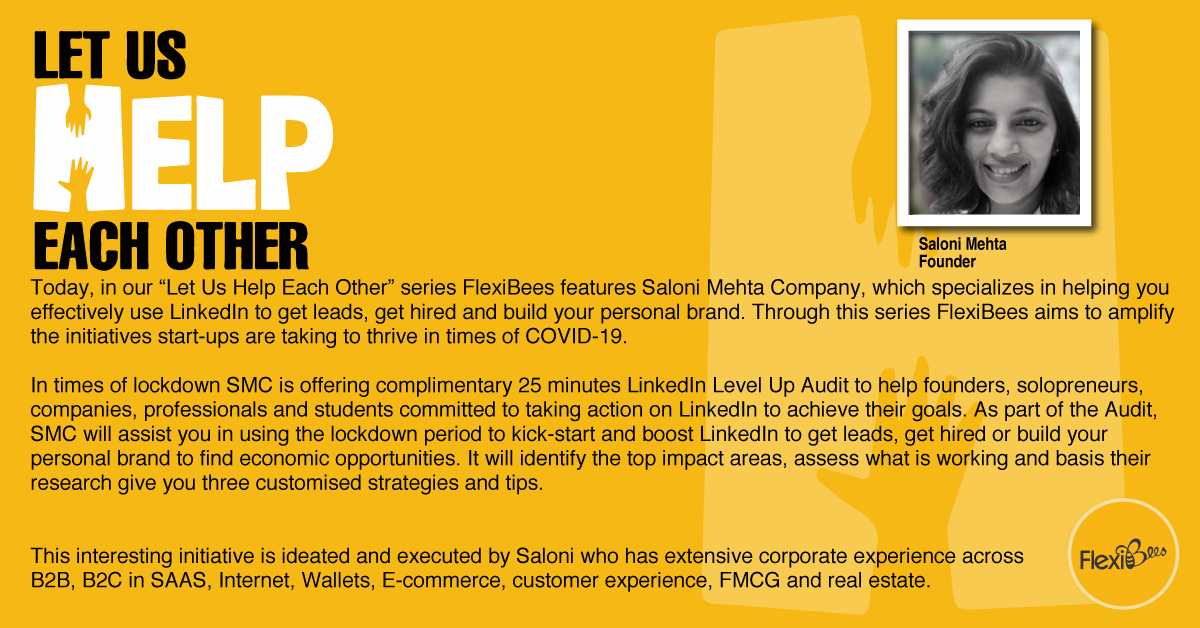 SMC provides action-oriented single session coaching, end-to-end consulting and boot camps to help you get started on LinkedIn and see immediate results. They also do sales and marketing strategy, customer journey mapping and career coaching.
In times of lockdown where many businesses are looking for ways to tap new leads and resources SMC is offering complimentary 25 minutes LinkedIn Level Up Audit. The aim is to help founders, solopreneurs, companies, professionals and students committed to taking action on LinkedIn to achieve their goals.
As part of the Audit, SMC will assist you in using the lockdown period to kick-start and boost LinkedIn to get leads, get hired or build your personal brand to find economic opportunities. It will identify the top impact areas, assess what is working and what is not, and basis their research, use their expertise to give you three customised strategies and tips.
If you are only here for gaining knowledge, alas, this is not for you! But if you are inspired to take action then visit
https://bit.ly/clevelupaudit
.
This interesting initiative is ideated and executed by Saloni who calls herself an extreme generalist. She is Ex-LinkedIn, Paytm, ITC and IIM Indore Alum and has extensive corporate experience across B2B, B2C in SAAS, Internet, Wallets, E-commerce, customer experience, FMCG and real estate. She is a woman of many hats including being an amateur poet who deeply cares about people, data, stories and problem solving.

------------------

FlexiBees has provided companies, both startups and established players, with part-time talent for many projects and roles; across a variety of functions & skill-sets like Inside Sales, Business Development, Marketing, Digital Marketing, Public Relations, Investment Banking, Technology, Content Development, Writing, Graphic Design, etc. All these companies have benefited by being able to hire high quality talent at pricing optimised only for the hours of work they need. With the COVID-19 pandemic leading to businesses trying new approaches, strategies, MVPs, etc, part-time and project-based talent, that are high-quality and affordable, can help.

If you have a role requirement, take 2 minutes to fill our form and we will try our best to fulfil it for you, quickly and to your satisfaction.