Let's Help Each Other : FlexiBees features The Snack Company
We may be juggling a lot of roles while at home during this lockdown, to manage cooking, household chores, and our kids. We can barely make even time to cook and make sure there is food on the table for all three meals.
But what about the evening hunger pang? What can we snack on? With having little time, we probably opt for the store-bought, packed snacks - quick and easy. While we sit at home, in front of our laptops (our children included), we are consuming more calories than we're spending! And with no access to the gym or the playgrounds and little motivation to exercise alone at home, we are all worried about our waistlines!
Today, FlexiBees is presenting, The Snack Company, who has the perfect solution!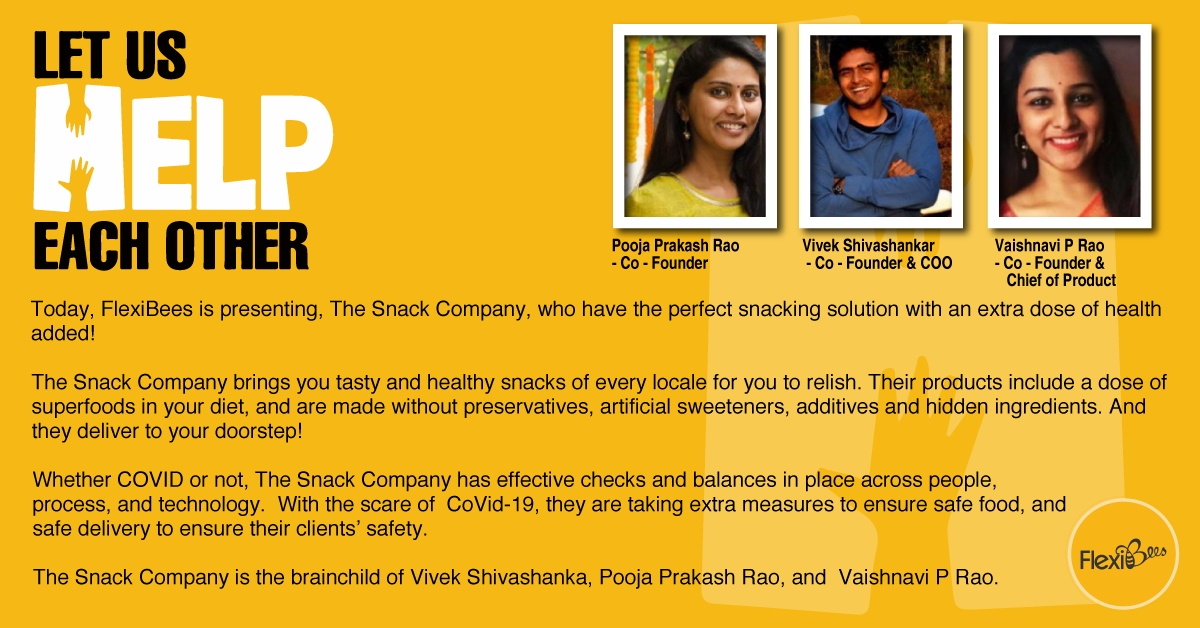 The Snack Company brings the best of snacks and nibbles of every locale for you to relish and reminisce. Their products help incorporate a healthy dose of superfoods in daily diets and stimulate the taste buds. They bring to you all of these tasty, homely, and healthy snacks that artfully made! Some of their products include artisanal granolas and handmade cookies. They are made without preservatives, artificial sweeteners, additives, and hidden ingredients. And they deliver it to your doorstep!
Whether COVID or not, The Snack Company has effective checks and balances in place across people, process, and technology. With the scare of CoVid-19, they are taking extra measures to ensure safe food, and safe delivery to ensure their clients' safety:
Sanitization of the facility on a periodic basis with certified products. These activities are calendarized across the year and are more frequent in the current times.
Conducting tests for the water being used as per ISO standards.
Periodic medical tests for the manpower during the hiring and thereon.
Temperature checks at the beginning of every shift.
Regular sanitization of hand and equipment being used during the day with special emphasis on critical control points in the manufacturing process.
Sourcing from reputed vendors who maintain such best practices.
Metal detectors to ensure contaminant-free raw material and the end product.
The Snack Company is the brainchild of Vivek Shivashanka, Pooja Prakash Rao, and Vaishnavi P Rao. Vivek is a passout of IIM Calcutta and started his entrepreneurial journey in 2018 with a café at IT Park that is now successfully sold. Pooja worked with Big4 consulting firm before moving onto an extensive role at a Biopharmaceutical equipment manufacturing firm. She also has a degree in healthcare management from IIM Calcutta and began her entrepreneurship journey with a startup in the field of medical consultations. Vaishnavi is a Biotechnology Engineer. After graduation, she worked with a reputed Indian analytics unicorn in their marketing wing. Post which she has been a part of other renowned organizations in the space of media and software development and lead their marketing efforts.
------------------------
FlexiBees has provided companies, both startups and established players, with part-time talent for many projects and roles; across a variety of functions & skill-sets like Inside Sales, Business Development, Marketing, Digital Marketing, Public Relations, Investment Banking, Technology, Content Development, Writing, Graphic Design, etc. All these companies have benefited by being able to hire high quality talent at pricing optimised only for the hours of work they need. With the COVID-19 pandemic leading to businesses trying new approaches, strategies, MVPs, etc, part-time and project-based talent, that are high-quality and affordable, can help.

If you have a role requirement, take 2 minutes to fill our form and we will try our best to fulfil it for you, quickly and to your satisfaction.