Ready to Return to Work? Follow these Resume writing tips and steps to create your eye-catching CV
As part of our I-RISE series, we speak on the
5th step - E-update
. The article below covers the very important aspect of updating one's resume to get back to work.
**
Taking a career break is one of the most difficult decisions that women often have to make. On the one hand is the beautiful feeling of starting a family, but on the other, there is also the worry about the repercussions a career break would have in your professional life. And if the break needs to be extended, there is also the fear of falling off the grid completely, of whether your skills would become redundant and whether you would ever be able to find relevant work.
You are not alone, though. According to a Harvard Business Review report, 43 percent of highly qualified women with children leave their careers or take a break from it at some point in their lives. While some decide to quit the workforce completely, others try to get back to their professional lives once their children start school. But, while the returnship journey is daunting for all women, regardless of how qualified they are, it is not an impossible one.
Updating your resume is one of the most important steps that you need to take once you are ready to return. So, read on for tips and pointers that will help you create a resume that will get you the best results:
Tips to keep in mind:
Before you write your returnship resume, here are some pointers that you should keep in mind:
Address the gap:
The biggest question that most women have is whether to include the gap or not. The answer is yes, you should and you need not be apologetic about it. Address the gap head on by listing the dates and reason for the gap. Once you put it out there, you would not need to explain more. You can also use the break in your favor to highlight skills and strengths you may have gained during the time.
Be organized:
With attention spans getting shorter (recruiters spend all of six seconds on a resume), it becomes important to organize your resume in such a way that it captures the attention of the reader. Highlight important and relevant information at the top of your resume where the recruiter is bound to notice it.
Be a stickler for grammar:
Do ensure that you are extra careful about your spelling, grammar, punctuation and sentence formation. Make sure that you stick to the same style throughout your resume – whether you use American or British. A shoddily written resume will find its way into the bin.
Length:
Recruiters do not have the time to go through pages, so try to bring everything into a page or maximum two. You can optimise your resume by putting in relevant information and leaving out those that do not add value to the job you are applying for.
Format your resume:
A clutter-free, clean resume invites the recruiter to pick it up. While designing your resume, don't just pick any format up from the internet or off a Word template. Rather, go for one which has a clean, interesting look. It's also best to use a simple font for your resume and leave enough white space to give the eye a rest. Ensure that you follow a consistent format and use bullet points instead of sentences and paragraphs.
Make it interesting: Your headers are what draw the attention of recruiters. So, instead of opting for simply 'Experience' or 'Skill sets' you can make it more specific, by using words such as 'Industry Experience,' 'Freelance Experience', 'Project Management Experience' or 'Technical Skills,' for example. You can also make your resume interesting, by adding some color to your headers – stick to neutral color blocks though. If you want to go a step further and be more creative, there are many interesting ideas on Pinterest and other websites that you can look at. You just need to be careful that it does not take away from the overall professional and clean look of your resume.
Get a third eye: Have someone else read your resume for errors, issues with keywords and skillsets, and any other problem that you may overlook.
Be confident: Design your resume in a way that brings out the confident you. Remember, you took a break so that you could look after your child – that is admirable and not something to be wary about. Bring all those positive qualities on to your resume.
One example of a well-formatted resume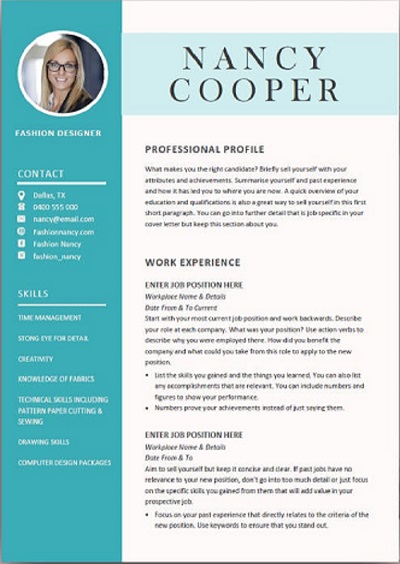 What you need to include:
Now that you have your main pointers in mind, here is what you should include in your resume:
Name and contact details: This comes on top of your CV. Use your name as the title and use a larger font so that it stands out. Add your professional title and your contact details (phone number, e-mail id) next. You can also include your up-to-date LinkedIn profile. Around 92 percent of recruiters check the social media profile, primarily LinkedIn, of a candidate, hence your LinkedIn profile should be updated and should mirror your resume.
Personal profile: According to career coaches, the top one-third portion of your resume is what recruiters scan through before they decide to read further or not. Hence, this is where you tell the company who you are and why they should pick you. You can write a small summary here and list your strengths, top skills and goal. If you are applying for a specific position, try to match the language and skills sets that the company is looking for with what you can offer them. Use keywords that are relevant to the profile you are applying for.
Work Experience: Follow the Job Title, Organization Name, Location and Date of Employment format. Again, this should be in reverse chronological order, starting with your most recent work experience. You can also use as many action words as possible here – implemented, strategized, developed, monitored, presented – are all words that you can add. Also add any freelance/consulting work that you may have done during your gap period here -any relevant experience adds on.
Skills: This is where you list all the skills that you possess – language skills, computer skills, software packages you are well versed with. However, do keep in mind that recruiters look beyond academics as well. Problem solving, time management, creativity, leadership, communication and the ability to multitask are all skills that recruiters look for. It would also help if you can highlight instances where you have used these skills.
Educational qualifications: Your educational qualifications should appear in reverse chronological order, with your most recent qualification on top. This is also where you can highlight any certification programmes, workshops or training session that you have attended. There are also many courses available online that you can upskill from - EdX, Coursera, udemy are all sites which offer both free and paid courses.
Extracurricular activities: This is an area that recruiters look at for relevant skills that can be applied at work. Do you volunteer anywhere, are you a part of any dramatics/book club/coding club? Are you a languages enthusiast or do you play a musical instrument? Avoid listing too many unassociated activities though, it may pass off as being unfocused.
Now that you have the format ready, all you need to do is start working on a new and improved resume that will surely catch the attention of the recruiter.
**
We at FlexiBees have placed such talented career returners like you across a variety of functions & skill-sets like Marketing, Digital Marketing, Public Relations, Investment Banking, Inside Sales, Business Development, Technology, Content Writing, Graphic Design, etc. We are committed to creating meaningful options for you. Go to https://jobseeker.flexibees.com/ and register with us, so we can reach out to you when we get any requirements that match your skills.