Why you should hire flexible Sales Talent to grow your start-up?
First of all, you might ask, what does flexible Sales talent mean?
Well, it means on-demand sales talent, that works with you in a flexible approach - could be part-time or fully/partly work-from-home or both, with very clear deliverables and incentives that are linked to those deliverables.
Now some of the benefits of this model are clear; of course, clear deliverables, and KPI linked incentives will drive performance, and every business needs that. But what may not be as clear is the immense value that the other aspects of this model also bring.
1# Access to an experienced talent pool that hits the ground running: As you can see from a sneak peak of the sales talent we have placed, the sales professional you hire can be a custom-fit to pretty much exactly your business need, whether it is experience in B2B, a particular domain, or Inside Sales you are looking for. In today's business environment that demands concept and solution-based selling, having experienced mature sales professionals at the front line to land that favorable first impression is absolutely essential. Especially for a start-up, time is money, and if you have to spend the first 6 months training somebody new, that is a suboptimal solution for you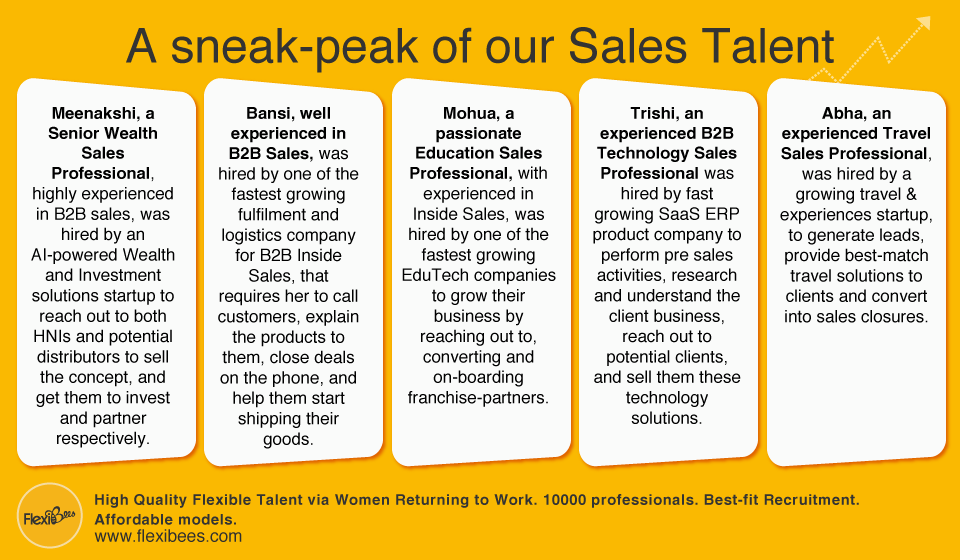 2# Agility & flexibility to scale-up and down with 3-6 month hiring models: As a start-up, sometimes you need to experiment with new routes to market or new lines of businesses. And if you are in the growth phase, it's critical you possess the agility to quickly ramp up your sales team, and the flexibility to let go of them in case it doesn't work out. In both these cases, hiring sales professionals through contractual arrangements of 3-6 months gives you the agility and flexibility to do that, without having to think of long-term scope and fitment.
3# High ROI from part-time models: Now if you want sales talent that bring in some intelligence, nuance and customer-centricity in how they sell your products or services, you have to consider how productive they will be working gruelling 8 to 10 hour days vs, say, a 6-hour day, especially when you also add to the mix the fact that in all likelihood, the fixed compensation for a 6-hour worker will be 60% that of a 10-hour worker. Hiring part-time sales talent is a high ROI approach especially when the work demands some customisation and intelligence.
4# Optimised costs due to Inside Sales approach: For many products/services today, the first step in the sales cycle is about creating relevance, which can be a hit or miss, and if given to the traditional field sales professionals to do, will prove to be inefficient and expensive. So, many startups find it useful to split their sales cycle into two where the first touch-point is a team of Inside sales professionals who identify and reach-out to clients, give them some of the information needed, enough to pique interest, and in essence, qualify the lead for the field-sales team to pick up. Now what better than to hire a remote-working sales team to handle your Inside sales?
5# Access to a unique talent pool: Not only does the gig economy enable access to trained talent, but if accompanied by flexibility, it also unlocks unique talent pools that businesses would not have had access to otherwise. Qualified and experienced women who have taken a career break are probably the best example of this. These women due to their child care responsibilities or geographic location are unable to participate in the traditional workforce, but are very keen to work and contribute. Flexibility not only helps them return to work on their own terms, but also helps businesses find talent that it would not otherwise have access to. It's a win-win
Now we at FlexiBees do exactly this - find talented women professionals who want to return to work, and through a proprietary recruitment process, match them with businesses that need this talent. So you get Access to a unique talent pool and also the Assurance of them being the best-fit talent for you. Especially for Sales, our processes are geared to ensure the people we select have the right personality and mindset to work in this high-energy function and that they have the target orientation and drive that sales professionals should have.
So if you are a start-up looking to grow your business by expanding your sales team, consider hiring flexible sales professionals. We leave you with that thought and with what some of our clients have to say about us. Their words fill us with pride and we are happy to have helped them achieve their goals, while being able to provide meaningful employment to many talented and qualified women.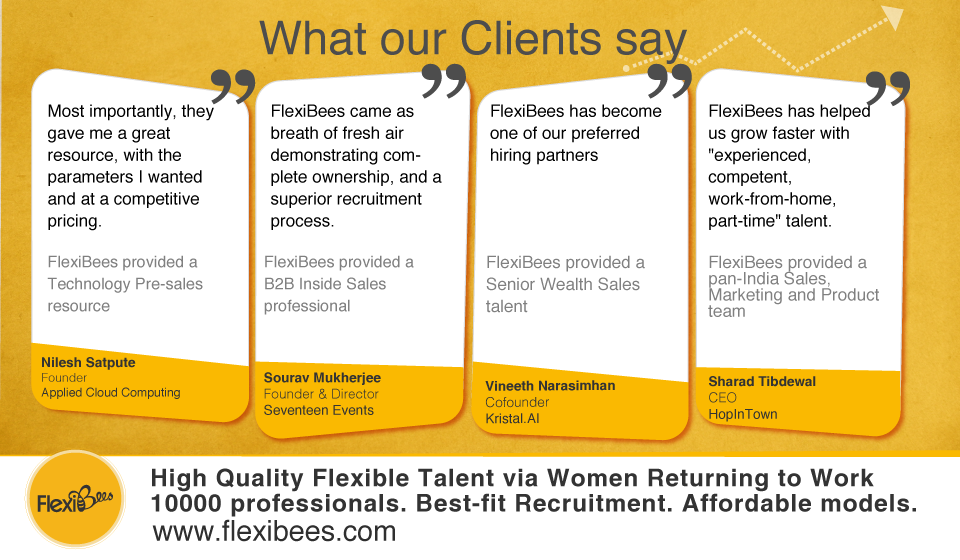 We at FlexiBees are happy to have helped our clients, both startups and established players, meet and exceed their business goals through providing them flexible talent across a variety of functions & skill-sets like Sales, Business Development, Marketing, Digital Marketing, Public Relations, Investment Banking, Technology, Content Writing, Graphic Design, etc. All these companies have benefited by being able to hire high quality talent at pricing optimised only for the hours of work they need. So if you have a job requirement, take 2 minutes to fill our form and we will get back pronto.