Founder's Desk: How they coped and nudged others on
When the 2nd wave of the Pandemic hit, apart from the severe physical toll it took, it quickly became evident that there would be a much harder toll - emotionally and mentally on everyone. The extent of uncertainty, fear, and confusion that the 2nd wave caused made everyday living impossible.
At FlexiBees, we realised that one way to help was to learn individual stories of how people were coping and then share them back for the larger community. The rationale being, we sometimes forget what can make us tick. And it is that little nudge from someone else that can remind us - to pick that musical instrument or make that phone call. We could draw from our own wells, and be that nudge for others as well, however hard it seemed.
Thus was born the "I cope by…" series that we ran on our social media platforms. What began as a humble initiative soon became a tsunami of positiveness and wisdom. We received a large number and variety of responses from the community of women professionals associated with us - either working on client projects or with us directly. These are women who had aced the 1st wave of the Pandemic and shared their learnings on how they managed remote work - so that their other women sisters AND spouses who were doing it for the first time could transition more easily into remote work.
This time around, these stellar women shared their repertoire of coping skills, fitting mainly into the following themes:-
Knowing that physical exercise not only keeps the body healthy but has a wide range of mental health benefits too, several respondents preferred to engage in running, yoga, cycling, or even dancing to protect their bodies and spirits. Physical exercise is known to relieve stress, keep our thinking faculties sharp, and increase energy levels. Exercise releases endorphins that produce positive feelings and can even help with relaxation and sleep quality - a critical resource at this weary time.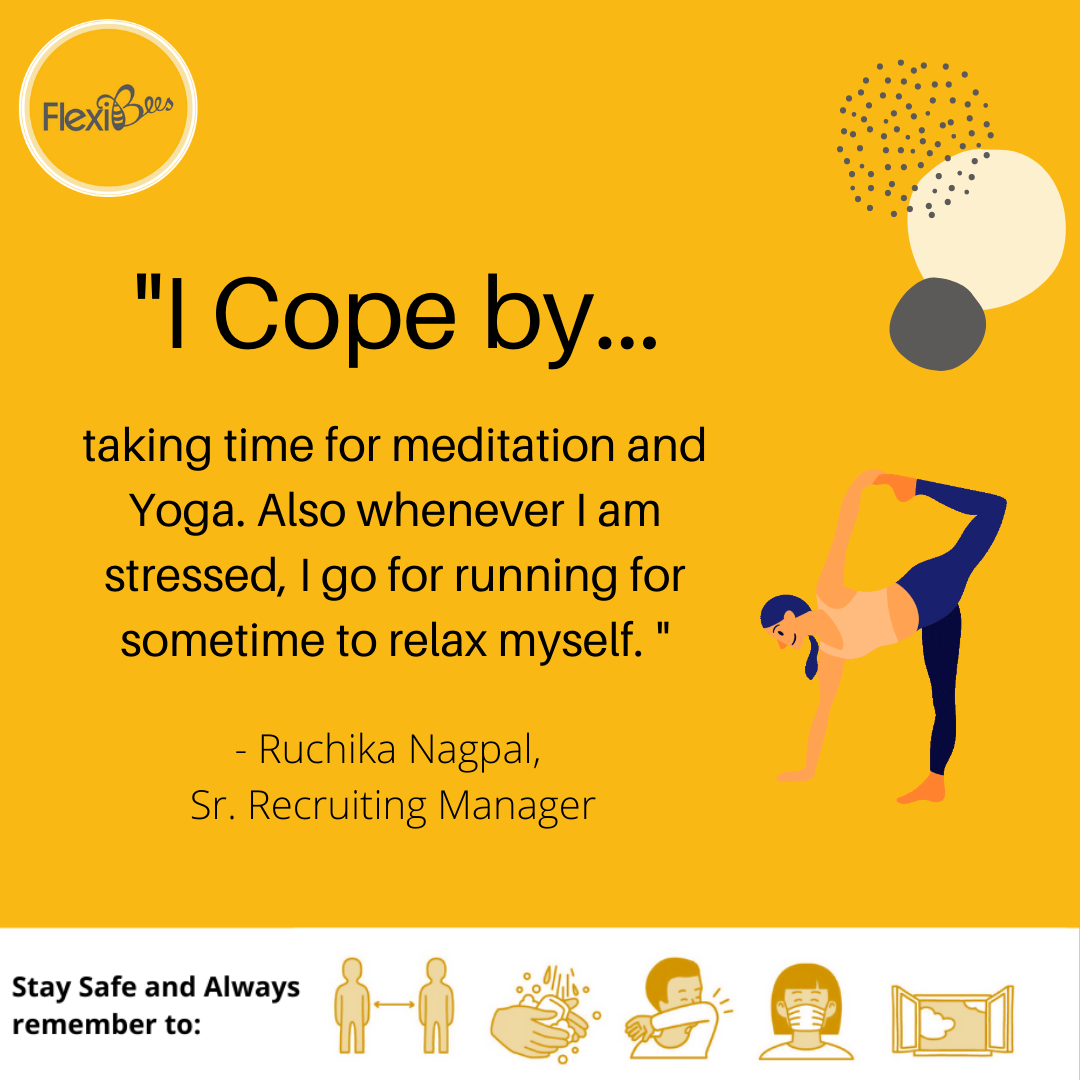 These include a range of activities that one can enjoy and relax with, thus enhancing mental and emotional wellbeing based on one's preference. Many coped by reading, listening to their favourite music, or watching their favourite TV shows. Comedy and heavy filtration of content to keep out the negative played a significant role as well. Fun, play, and dance with family also figured in the mix.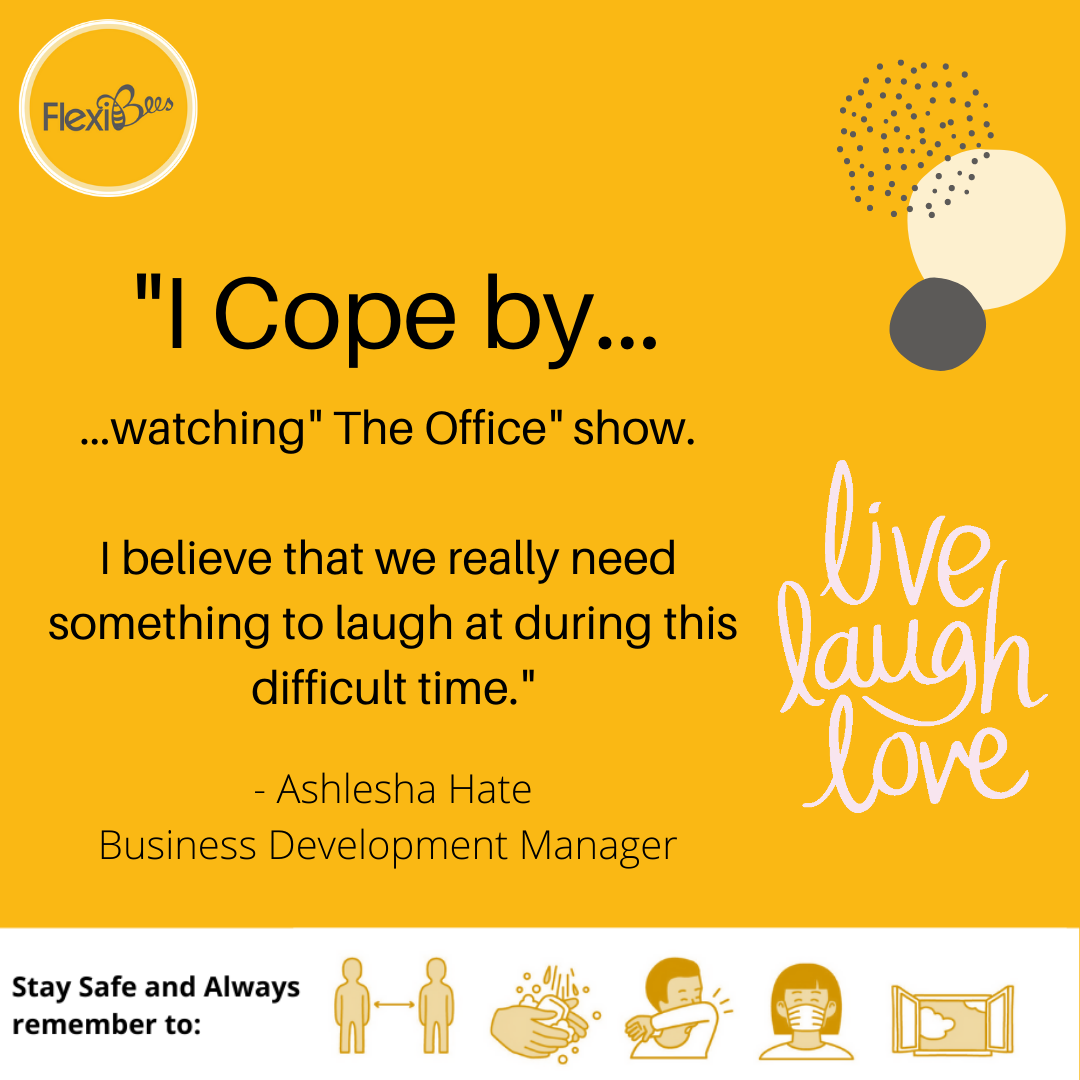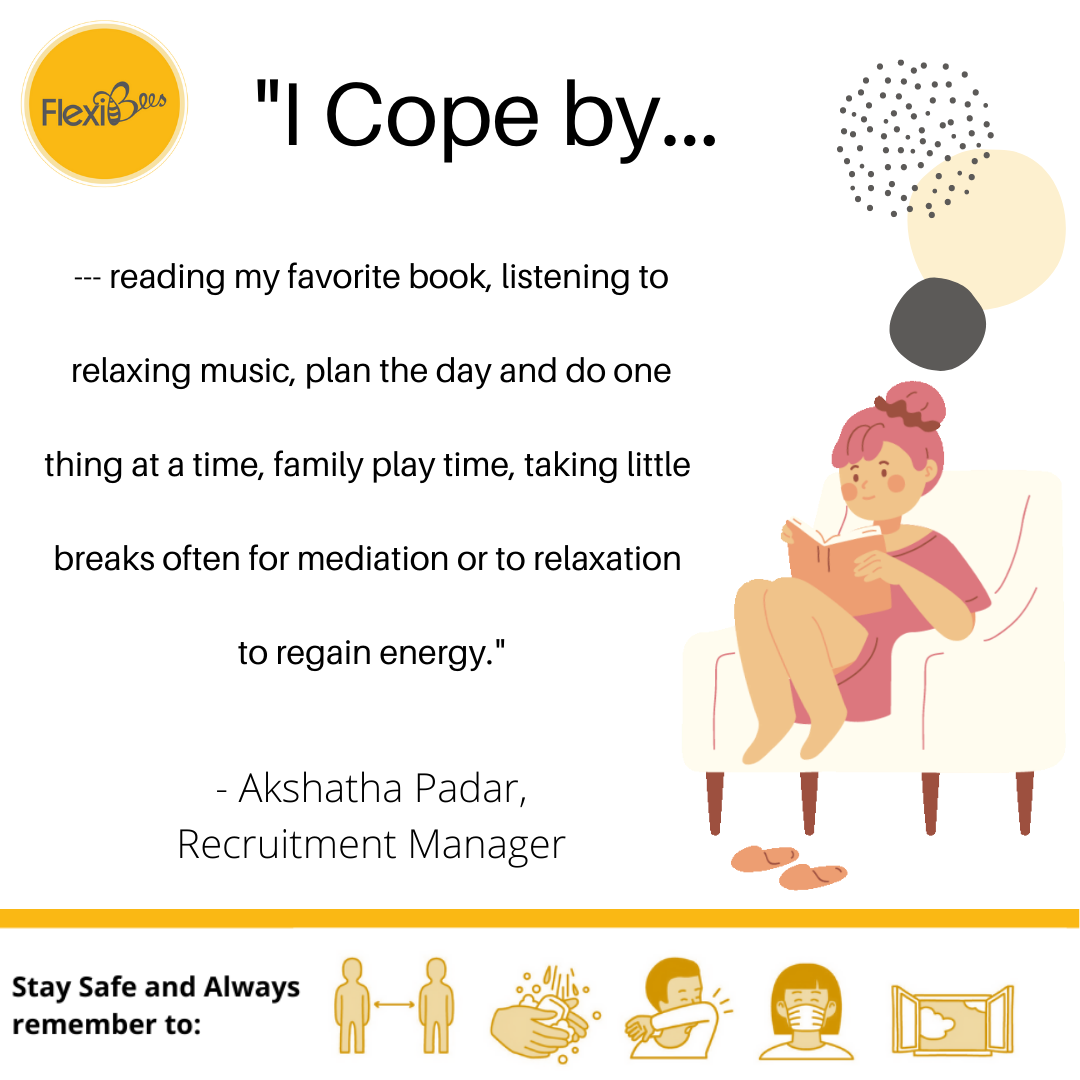 Hobbies and Rejuvenation:
These were activities that engaged the mind, required the application of skills in areas in which one was passionate about, thus elevating her into a state of flow. Singing, Baking, Playing the Piano, Learning new skills, or even engaging in Creative pursuits with their children helped pick the mood a few notches. Apart from being enjoyable in themselves, these activities also help in feelings of accomplishment, as they involve pushing one's skills to the next level while achieving a state of flow.
In his famous Ted Talk from the most extended study on happiness, Robert Waldinger concluded: "The good life is built with good relationships." Good relationships were observed to protect not only physical but also mental wellbeing. Relationships in which people fought, but could still count on the other person when the going got tough, were seen as protective and an essential contributor to happiness.
Having a group of cheerleading friends, a family to count on during crises, elderly parents who cooperated with their health all helped beat the isolation caused by the Pandemic, even if temporarily. Of course, the surest and fastest way to get an oxytocin boost was to cuddle up with kids or play with them :)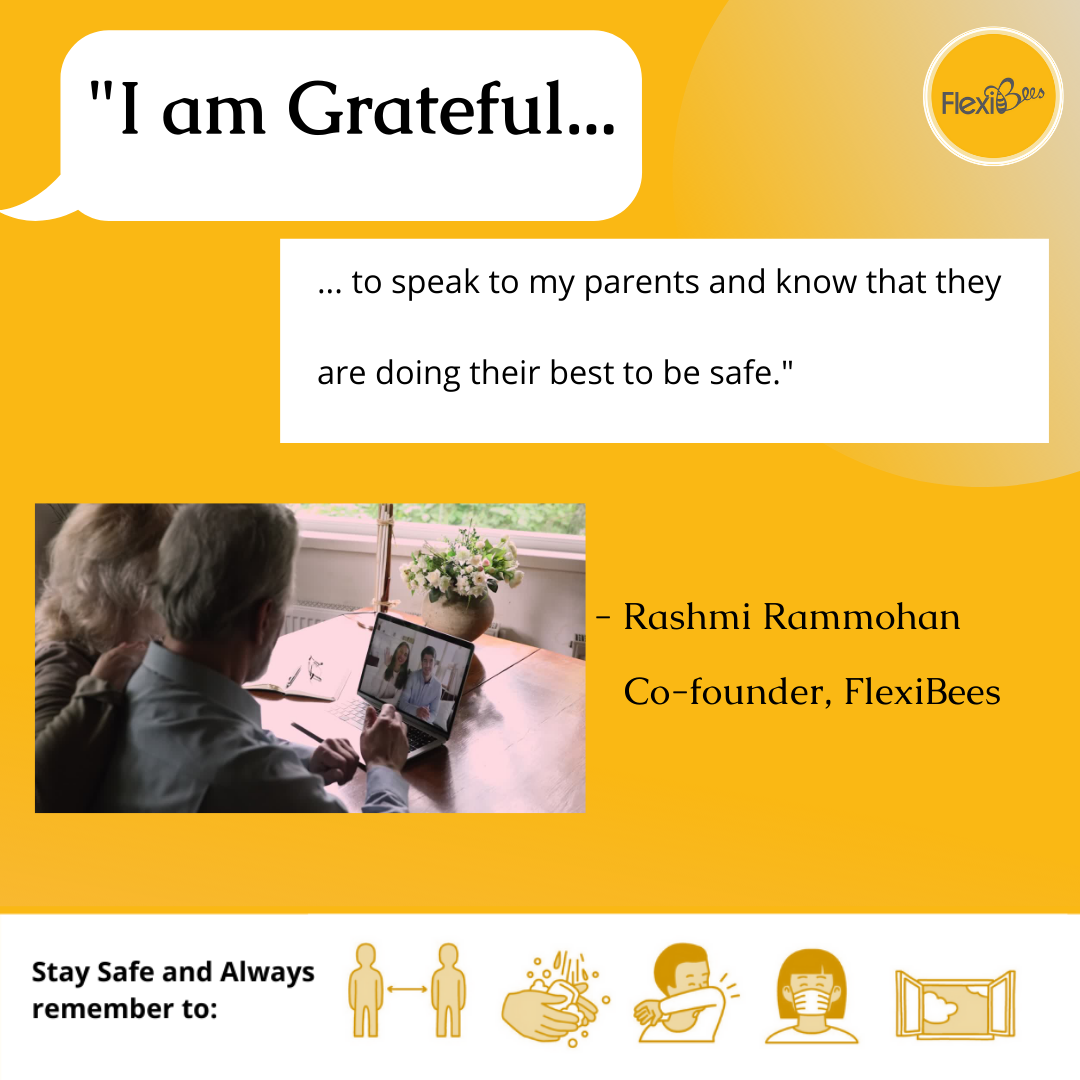 Several had faith as anchors to ride through the uncertainty. Many others held on to their meditation practices, prayer, chanting, pranayama as ways to add to their reservoir of resilience. Research has shown that irrespective of one's religion or faith, many of these practices can have physiological and psychological effects by triggering the parasympathetic nervous system.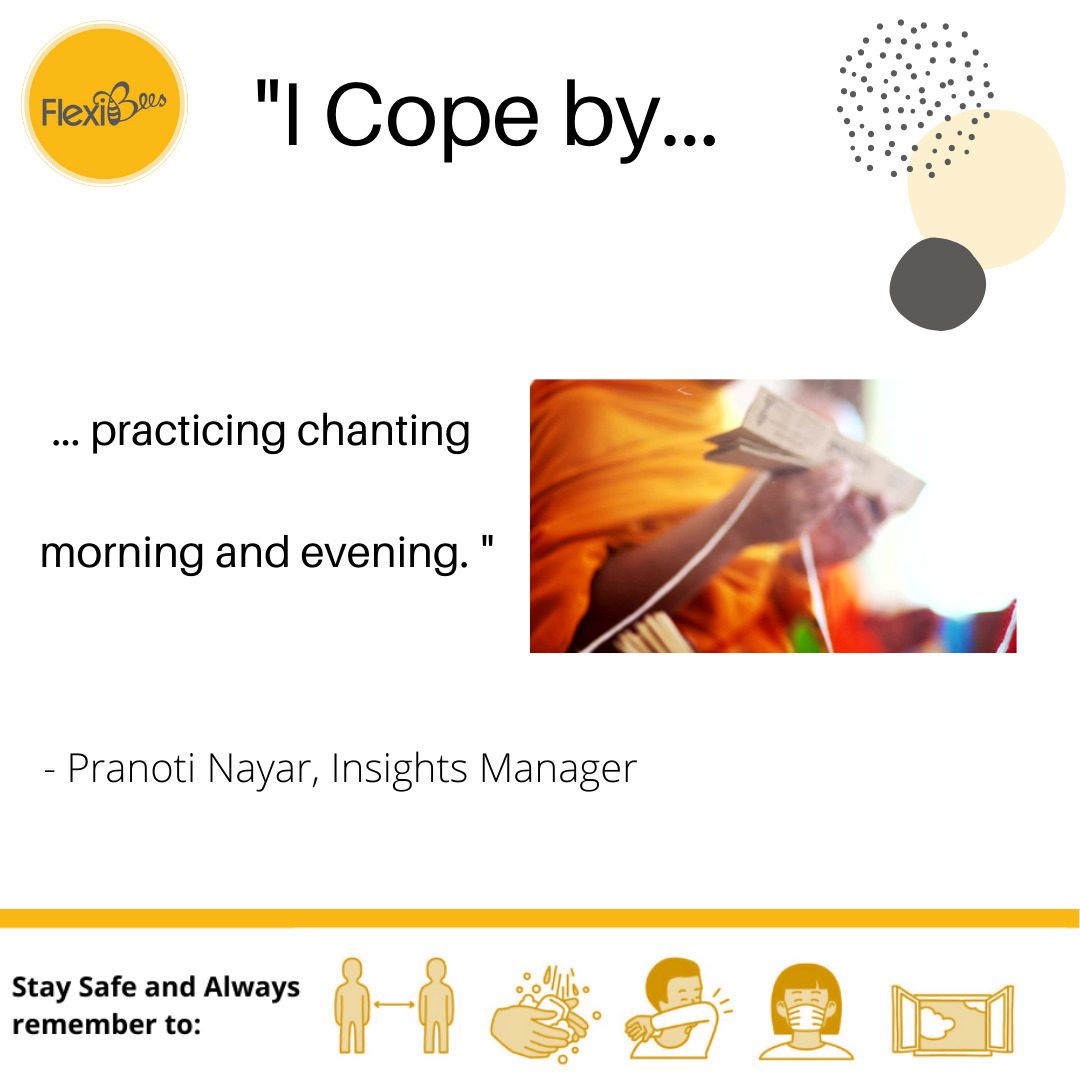 All of these people who contributed to this series work in demanding roles that also provide a sense of achievement and purpose, be it - Sales, Marketing, Content writing, Finance, Digital Marketing, all the while giving them the autonomy to work flexibly.
By wisely building in micro-moments for laughter, time with family, and breaks for themselves amidst their very hectic schedule and sharing these, these women have nudged others to think about their self-care.
Our salute and gratitude to them for this vital service at this time!