Industry Expert Anshika Srivastava shares tips on how to build a successful Digital Marketing Career while working from home
As a part of our Industry Expert series, meet Anshika Srivastava, Digital Marketing Manager, FlexiBees who is responsible for developing, implementing and managing marketing campaigns. She plays a major role in enhancing brand awareness within social media space as well as driving website traffic and acquiring new leads/clients.
Read on to learn how she has built her career as Digital Marketing professional while working from home.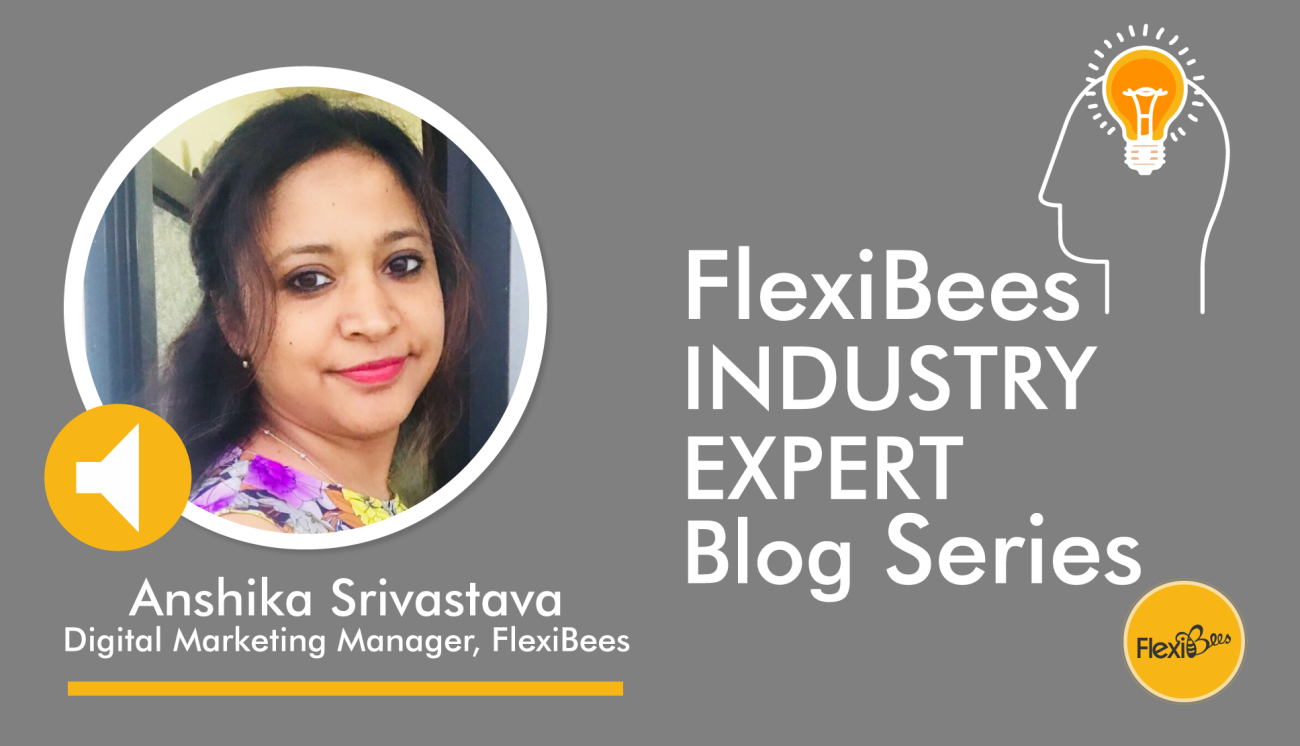 1. Tell us about your experience, and your role as a Digital Marketing Manager for FlexiBees?
It's been 10+ years since I started working in digital marketing field after completing my MBA in IT & Marketing. During my career, I have been lucky to have worked for leading companies and startups, on all the different aspects of digital marketing like - SEO, Email Marketing, Social Media Marketing & Planning, Blogging.
I am an avid blogger, instagrammer, community builder and digital marketing trainer.
My role as Digital Marketing Manager for FlexiBees includes creating content calendar, managing the social media platforms, creating email campaigns, running paid campaigns, lead generation and keeping track of the analytics.
2. From fulltime role you switched to a work from home career in Digital Marketing. How did it happen? And what helped you in making this change.
Post motherhood I had to leave my full-time job to take care of my child. I waited till my child turned one. Then I started looking out for options where I could work from home. And luckily I got an opportunity through Linkedin. It was not exactly into digital marketing but was a blogger position. But I took it up, as it gave me an opportunity to work as well as earn. That was the beginning. After that I started getting a lot of freelancing projects through references and because I was active in relevant groups and kept my social media profiles updated. There is a lot of demand in startups for digital marketers and they are happy to outsource the work, one just needs to have the right skills.
3. What all do you do to stay updated on the latest in Digital Marketing?
I follow the blogs and listen to podcasts of top Digital Marketing influencers like - Neil Patel, Jeff Bulas. I have also subscribed to newsletters of website like Search Engine Examiner to keep myself updated on the latest in this field. Whatever I learn I try to implement in the work I am doing for my clients.
4. Do you think personal branding is important today and why?
Today we are living in a social world. Before you buy anything, you search for the product online, read about it and check reviews. Same applies to us also. For prospective employers or clients, we are a product. It is important how we present oneself to the world. Effective personal branding will differentiate us from the competition. This will result in building trust and more leads. Hence, cultivating a personal brand is more important than ever.
5. What advice would you give to women who want to make their second careers in this field?
If you want to have a successful career while taking care of your home, then digital marketing is the best field. You can work from anywhere and at anytime. Enroll for certifications online or do a digital marketing course. Then -
Build your personal brand
Be active in social media platforms specially Linkedin
Implement what you learn. Best is to have your own website or blog.
Create a portfolio with case studies which show your track record
Attend industry meetups and conferences
Stay updated about the new things happening in digital marketing
**************

We at FlexiBees have placed such talented career returners like you across a variety of functions & skill-sets like Graphic Design, Digital Marketing, Content Writing, Marketing, Technology etc. We are committed to creating meaningful options for you. Go to https://www.flexibees.com/for-job-seekers.html and register with us, so we can reach out to you when we get any requirements that match your skills.