Let's Help Each Other : FlexiBees features Driefcase
Have you ever struggled to keep all your health records in one place? Or scrambled around to locate them when rushing to the hospital? Then this post is for you.
In these times when COVID-19 is challenging everyone, health has become the topmost priority. Having your and your family members health records handy has become essential. That is why today in our "Let Us Help Each Other" series we feature DRiefcase Health-tech Private Limited. We take a look at the initiative that they have taken during times of Corona to help people.
Through this series FlexiBees wants to amplify the initiatives start-ups are taking to thrive in times of COVID-19.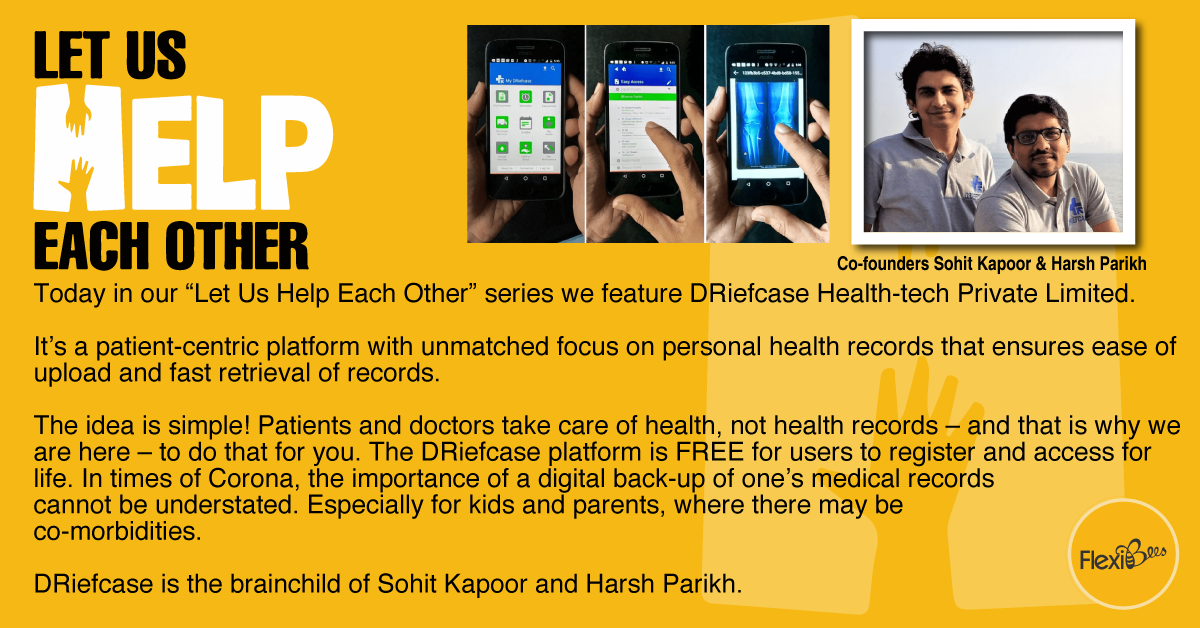 DRiefcase (
www.driefcase.com
) provides secure, easy-to-use access to personal health records. We all have some medical records at home - for ourselves, parents or kids. And these are all neatly stacked in a cabinet. Through their platform DRiefcase enables users to maintain the medical records of their whole family in one place, online, and access them anytime, in a matter of seconds.
It's a patient-centric platform with unmatched focus on personal health records that ensures ease of upload and fast retrieval of records. The idea is simple! Patients and doctors take care of health, not health records – and that is why we are here – to do that for you. The DRiefcase platform is FREE for users to register and access for life.
In times of Corona, the importance of a digital back-up of one's medical records cannot be understated. Especially for kids and parents, where there may be co-morbidities.
Storing records is easy, retrieving them quickly in times of need can be challenging. With That in mind the founders, Sohit Kapoor and Harsh Parikh came up with the idea of DRiefcase, where every uploaded document is indexed basis multiple parameters such as name of the patient, doctor, clinic and date so that any document can be easily retrieved when required.
The lockdown when everyone is at home and with maybe a little more time at hand, people should take the initiative to organize their family records. After all, emergencies don't usually announce themselves!
DRiefcase is the brainchild of Sohit and Harsh both ex-investment bankers from Bank of America Merrill Lynch and IIM-Bangalore alumni.

--------------------
FlexiBees has provided companies, both startups and established players, with part-time talent for many projects and roles; across a variety of functions & skill-sets like Inside Sales, Business Development, Marketing, Digital Marketing, Public Relations, Investment Banking, Technology, Content Development, Writing, Graphic Design, etc. All these companies have benefited by being able to hire high quality talent at pricing optimised only for the hours of work they need. With the COVID-19 pandemic leading to businesses trying new approaches, strategies, MVPs, etc, part-time and project-based talent, that are high-quality and affordable, can help.

If you have a role requirement, take 2 minutes to fill our form and we will try our best to fulfil it for you, quickly and to your satisfaction.