Want to GROW your Financial Services start-up?
Of course you do.
Now here is another interesting question: is there such a thing as a part-time Investment Banker?
Yes.
Well, we were surprised too. When we got our first requirement, for a part-time Investment & Research Associate, we worked hard to fulfil it (and we did; it was a roaring success and the client not only extended the association to a more permanent one, but also recommended us to a bunch of other similar firms). When we got our second such requirement for an Investment Analyst, we knew why it was happening.
With fintech and financial services being the next big bet, it is no wonder that there are many visionary folks starting up today to cater to different kinds of financial needs, be it for retail consumers, or wealthy individuals, for corporations, for SMEs, and family held businesses, across areas such as advisory, lending, wealth management, investment solutions, etc - the space is getting very interesting.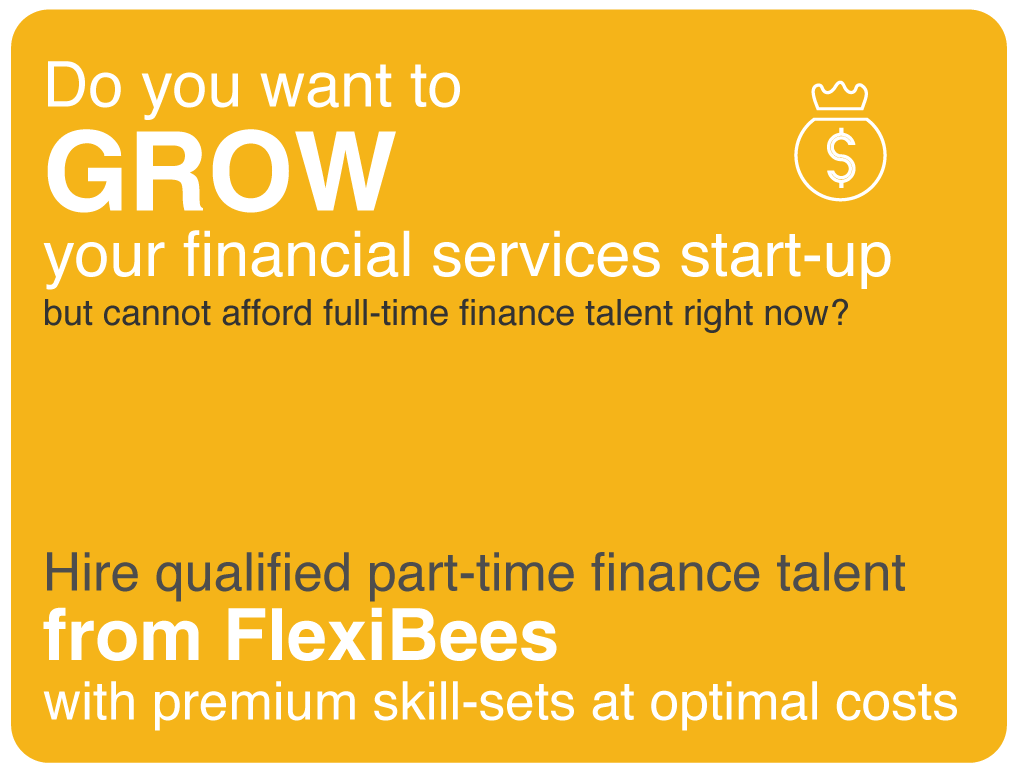 And that is where FlexiBees comes in. The benefits that financial services startups get from hiring high quality flexible talent are many -
1) Free up your bandwidth to grow the business with affordable high quality talent taking over time-heavy support tasks
While it may be the founder i.e you selling your own knowledge & expertise to grow the business, you will require some additional pieces of in-depth research, financial modeling, sector and industry analyses, and investor/pitch decks, to name a few. To do all of these on your own while also running from pillar to post to get that much coveted meeting is just not the best use of your time and productivity. Hiring someone good full-time has not quite become affordable yet. Flexible talent comes in handy here with part-time and flexible models that help you get the support you need while not having to pay through your nose
2) Structure engagements as per business variability, eg 100 hours over 3 months
The financial services industry mostly work with high value deals and clients which take a while to close with unpredictable sales cycles. In this scenario, how amazing would it be if you could hire your team to be in-line with business variability - so you ask them to come in for 20 hours one week when business picks up and there are a bunch of client presentations to make, but the waiting period over the next few weeks can be down-time for your team also. Now this is possible with FlexiBees, where our flexible models allow you to buy 50 or 100 hours, that you can spread over a certain number of days, allowing you in turn to align your back-end costs and front-end revenue
3) Access to an experienced talent pool that is vetted by us
As you can see from the sneak peek of the finance talent we at FlexiBees have placed, with us, you get world class talent that is not only qualified but also experienced and hence is able to hit the ground running. And we don't leave you finding the best-fit talent you need to chance, we painstakingly ensure through a series of evaluation techniques, that the professionals you finally engage with are what your business needs. A wrong hire for startup can be debilitating, and the right one can make your business thrive. It's our continuous effort to help you thrive.
4) Agility & flexibility to scale-up and down with 3-6 month hiring models
We have a variety of models of engagement, and one of the most preferred ones are the 3-6 months contracts that allow startups to scale up or down after the initial contract duration is over. This allows you to experiment and evaluate the resource, without heavy costs of hiring and retrenchment
5) Access to a unique talent pool that hits the ground running
The gig economy enables access to experienced talent that does not need intensive training, and accompanied by flexibility, it also unlocks unique talent pools that businesses would not have had access to otherwise. Qualified and experienced women who have taken a career break are probably the best example of this. These women due to their child care responsibilities or geographic location are unable to participate in the traditional workforce, but are very keen to work and contribute. Flexibility helps them return to work on their own terms, and for businesses, it helps them find experienced talent they would not otherwise have access to AND don't have to invest 6 months of training in.
It's the very definition of a win-win.
So are you are a financial services start-up? Are you looking to grow your business with affordable and high quality talent?
Then consider hiring flexible finance talent from FlexiBees.
We leave you with that thought and with what some of our clients have to say about us. Their words fill us with pride and we are happy to have helped them achieve their goals, while being able to provide meaningful employment to many talented and qualified women.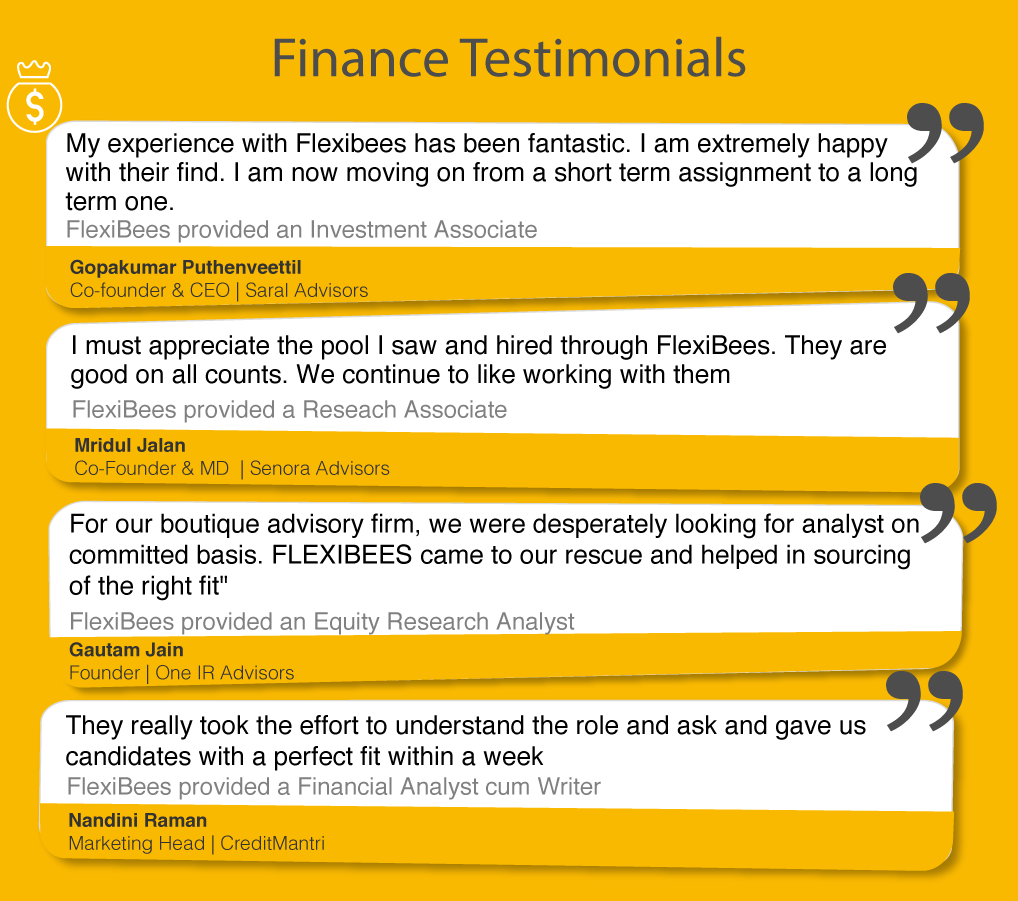 -----------------
We at FlexiBees are happy to have helped our clients, both startups and established players, meet and exceed their business goals through providing them flexible talent across a variety of functions & skill-sets like Sales, Business Development, Finance, Marketing, Digital Marketing, Public Relations, Investment Banking, Technology, Content Writing, Graphic Design, etc. All these companies have benefited by being able to hire high quality talent at pricing optimised only for the hours of work they need. So if you have a job requirement, take 2 minutes to fill our form and we will get back pronto.